GASS Trivia Night 2023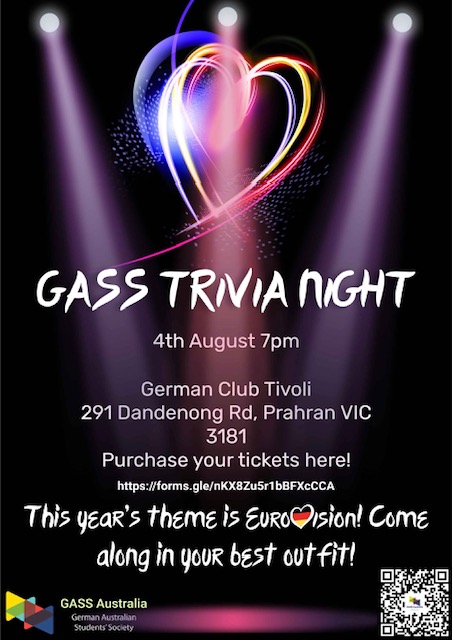 The time has finally arrived. On Friday the 4th of August, GASS is hosting the 'Eurovision' themed GASS Trivia Night 2023!
Taking place at the German Club Tivoli in Prahan, the 2023 Trivia Night provides an amazing opportunity to reunite with SAGSE friends and enjoy a fun night of trivia together. Each ticket includes a full meal and a free drink, while the funds raised for GASS go towards supporting the wonderful exchange for another year.
GASS Trivia Night is a public event, so all the familiar faces are welcome, as well as all many new friends and families that could be interested. With a 'Eurovision' theme, everyone is encouraged to dress up in their favourite disco outfit and flaunt their style, while there'll also be a few song-contest-related questions sprinkled throughout the competition.
📆 Save the date: Friday, August 4th, 2023, at 7:00 PM.
📍 Location: German Club Tivoli, 291 Dandenong Rd, Prahran VIC 3181
For more details and to purchase tickets, please click here.