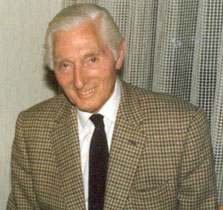 Scholarships for Australian-German Student Exchange (SAGSE) was founded in Melbourne in 1967 by Herr Fritz von Einem Joosten. Fritz was a German businessman who was seriously wounded while fighting on the Russian front during World War II. He immigrated to Australia soon after the war and believed such conflicts could be avoided if young people from different countries could meet and learn to understand one another.
Fritz sought sponsorship from a number of German firms operating in Australia. Since then, SAGSE has been able to offer a select number of year 11 and 12 students studying German in secondary schools, the opportunity to improve their language skills and knowledge of the German language and get to know the German culture by living in the country for a period of time.
SAGSE awards scholarships to Australian students each year to travel to Germany in late November and return early February having experienced a German winter and life with a German host family. In turn, German students travel to Australia during their summer holidays in the months of late June until late August. The exchange programs aims to give students an insight into a foreign culture and establish friendships between the two countries.
SAGSE exchange opportunities differentiates itself from other exchange programs. Firstly, SAGSE is a scholarship-based exchange, providing students with exchange opportunities irrespective of their socio-economic background. Secondly, SAGSE is largely run by those who themselves have experienced the SAGSE program. Former exchange students sit on the committees of the various SAGSE branches and whilst the more recently returned students form a part of the German Australian Students' Society (GASS), which has branches in NSW, Victoria and WA. GASS Australia assists SAGSE in the annual search for host families, organise social events for the German students throughout their exchange (such as camps, trivia nights and Melbourne Weekend), and provide support for the Australian students who travel to Germany later in the year.
Since its inception in 1967, SAGSE has sent more than 1500 students on exchange.
SAGSE is registered with the respective State Government Authority in New South Wales and registered and approved by the Victorian Registration and Qualification Authority (VRQA) in Victoria, and is sponsored by German and Australian businesses, teachers' associations and fundraising activities from past scholarship holders. Branches of SAGSE also operate in Western Australia.
A similar affiliated society operates in New Zealand.The Society for New Zealand-German Student Exchange (SNZGSE) is not a branch of Scholarships for Australian German Student Exchange (SAGSE), but is affiliated with it. Students from New Zealand travel separately to and from Germany, and their exchange is organised by SAGSE and SNZGSE in conjunction with GDANSA (Gesellschaft für Deutsch-Australischen/ Neuseeländischen Schüleraustausch) and GASS Germany. SNZGSE students join the SAGSE students for a winter camp run by GASS Germany in the first week of January, as well as for a trip to Berlin, organised by GDANSA at the end of their stay in Germany.